Eminem Regrets Using Homophobic Slur On New Album 'Kamikaze'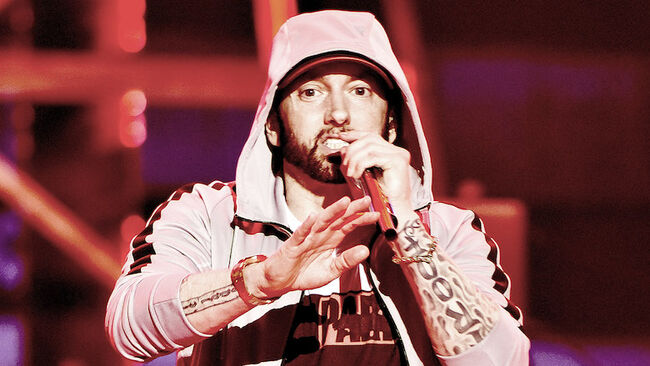 Eminem is wishing he'd rewritten the controversial verse that landed him in hot water with the music industry.
It all began when Shady took aim at fellow MC Tyler, the Creator in his song "Fall" from his new LP Kamikaze, in which he refers to the young star by a homophobic slur. The line in question — "Tyler create nothin'/ I see why you called yourself a f****t, bitch." — derives from a previous conflict the two emcees shared last year when the 27-year-old called Em's 2017 song "Walk on Water" trash, tweeting, "dear god this song is horrible, sheesh how the f**k."
Looking back, however, the 46-year-old realizes his use of the term was a disastrous move on his part, for which he truly feels embarrassed. "I think the word that I called [Tyler] on that song was one of the things where I felt like this might be too far," he explained in an interview with Sway. "Because in my quest to hurt him, I realize that I was hurting a lot of other people by saying it."
Though all seems fair in love and hip-hop, musicians also took the Rap God to task over the hateful line. "It's never ok to say a word that is filled with hate," Imagine Dragons frontman Dan Reynolds chided in his tweet at the Detroit artist, adding, "There is never an ok time to say the word f****t I don't care who you are."
Others on social media echoed similar sentiments, as one user tweeted, calling the rhymester a "washed up pop star who uses "f****t" as an insult in a pathetic attempt to be edgy and controversial. It's not only corny, it's ignorant af."
What do you think of Eminem's questionable diss toward Tyler? Sound off below!