Tiffany Haddish & Katt Williams End Feud At The 2018 Emmys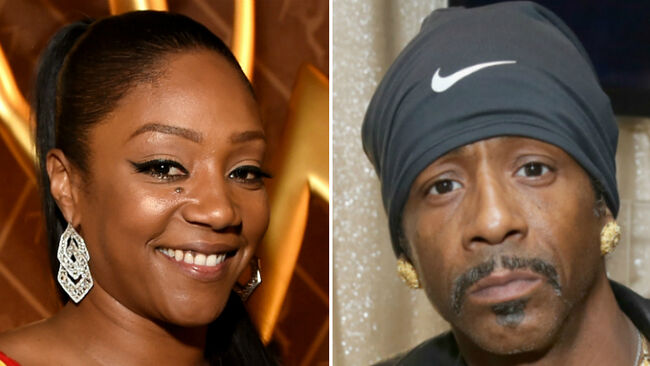 Nothing like a good ol' bended-knee apology to squash a beef.
Katt Williams pulled out all the stops to make amends with Tiffany Haddish following his harsh words about the comedian earlier this week. On Monday (September 17), the Girls Trip star posted a photo of Katt kneeling to her backstage at the 2018 Emmys. "#emmys2018 #success#winners," she captioned the IG post, which featured four shots of Katt kneeling as she held her recently-won Emmy in her hand.
Katt's apology came days after he claimed her success was due to Hollywood liking her "because she wants to sleep with a white man."
"You can't tell me your favorite Tiffany Haddish joke. Why? Because she hasn't done a tour yet. She hasn't done a special. She has not proven the ability to tell jokes back to back for an hour to nobody," he said on an Atlanta radio show. "They already ready to down Mo'Nique and up somebody who has shown them Girls Trip. Did you think she wrote Girls Trip? Or do you think that was already a script and they handed it to her." He went on to say anyone could have played that part, which launched Tiffany's career into stardom, and gone on to have the same success because it had "three of our greatest black actresses" in the film.
Even after Katt's out-of-nowhere rant, Tiffany responded to Katt's words on Twitter with nothing but love. "It's official I made it!@KattPackAllDay talked about me and didn't have his facts right! #Iwin #sheready," she wrote. "I look forward to seeing you on Monday Katt, when we pick up our Emmys. I just want to shower you with REAL Love cause you need it, and I Love you 😘."
Tiffany won an Emmy Award for Outstanding Guest Actress on a Comedy Series for Saturday Night Live.